Greater Accuracy for Exalto Bearings
A new customer for Exalto last year prompted a review of our quality procedures when they required bearings manufacturing to tolerances tighter than our usual specification of +/- 0.025mm.
Business Manager Mike explains "the diameter of the OD was critical to this customer and we therefore needed to be able to maintain the specification bands without any deviation whatsoever… after visiting their facility and observing the use of Snap Gauges as a method of inspecting the bearings diameter I was interested in finding out about these precision gauges and the benefits they could bring to Exalto"
After contacting Bowers Group, an international supplier of high quality precision measuring equipment, we discussed and eventually purchased 6 gauges, appropriate for measuring bearings 50 – 150mm in diameter
At Exalto we manufacture marine bearings to precise ID, OD and Length measurements, ensuring concentricity and parallelism
Mark adds "the new gauges have improved our quality inspection procedures both in terms of accuracy as well as efficiency…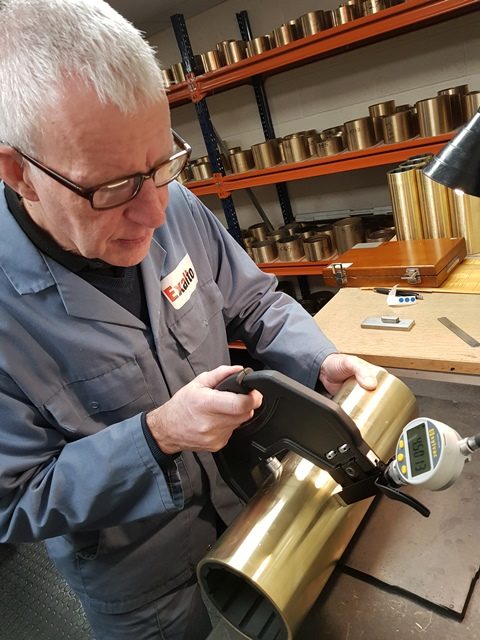 The gauges make inspection quicker by enabling us to measure the whole bearing in one go, while also supplying us with a confident measurement the first time – there is no need to re-check and there is no risk of discrepancy in readings between inspectors.
They are easy to use, requiring minimum training and enabling the operator to easily switch between metric and imperial measuring systems without re-setting, a big time saver for Exalto as we produce bearings to sizes across both measuring systems.
They also allow us to store two nominal sizes at once, allowing us to measure two different batches of bearings without re-setting the gauge, again, saving us time and making our whole process more efficient.
I'm delighted with the gauges supplied by Bowers, as well as the excellent service and support we've received – at short notice they visited our premises and provided a demo for our staff on more than one occasion – the gauges themselves have benefitted Exalto as a whole and our inspection has never been more accurate or efficient"
Want to talk to Bowers Group about precision measuring equipment? Contact Phil Cadman pcadman@bowersgroup.co.uk
Want to talk to Exalto about bearings? Contact Tom or Andy on sales@exalto.co.uk
Read all news